International Counterathon Workshop
AI, Extreme Speech and Disinformation:
Global Challenges and the Way Ahead
26-27 July 2021
Venue: Centre for Advanced Studies, LMU Munich
Team AI4Dignity is organizing a two-day collaborative coding event with fact checkers, AI developers and academic researchers to improve machine learning models to flag and label online extreme speech
with
Public plenary and panels
How can AI assisted systems contribute to online extreme speech moderation?
How do we envision collaborative endeavors in AI assisted moderation to address the vast cultural variation and dynamic nature of hateful expressions online?
How can communities, AI developers and ethnographers team up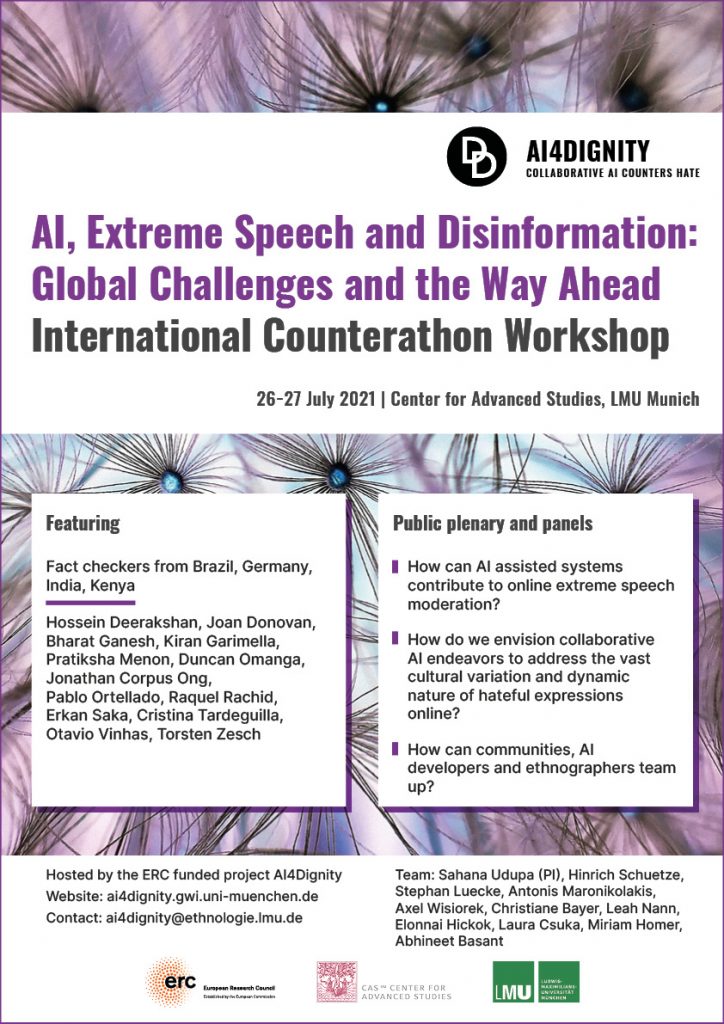 Featuring
Factcheckers: Clara Becker, Chico Marés, Thays Lavor, Gilberto Scofield Jr., (Brazil); Anshita Bhatt, Aylin Dogan, Julia Ley, Anna-Sophie Barbutev, Eva Casper, Marita Wehlus, Aylin Dogan (Germany); Anmol Alphonso, Govindraj Ethiraj, Mayur Deokar, Nidhi Jacob, Vinod Rathi, Rahul Namboodri (India); Geofrey Omondi,  Erick Kashara (Kenya)
and
Hossein Deerakshan (LSE), Joan Donovan (Harvard), Bharat Ganesh (Groningen), Kiran Garimella (MIT), Max Kramer (Frei Uni), Busra Killic (Istambul Bilgi Uni), Laura Loguercio (Pagella Politica), Pratiksha Menon (UMich), Duncan Omanga (SSRC), Jonathan Corpus Ong (UMass), Pablo Ortellado (Uni of São Paolo), Raquel Rachid (Uni of São Paolo), Erkan Saka (Istambul Bilgi Uni), Cristina Tardeguilla (Agência Lupa), Otvio Vinhas (Uni College Dublin), Torsten Zes (Duisburg-Essen)
AI4Dignity team:
Sahana Udupa (Principal Investigator), Hinrich Schuetze, Antonis Maronikolakis, Axel Wisiorek, Leah Nann,Elonnai Hickok, Laurą Csuka, Miriam Homer, Stephan Leucke, Abhineet Basant
Call for papers
We are inviting abstract submissions in these thematic areas:
Policy frameworks for AI and online content moderation in the EU/North America/the 'global Souths'
Critical studies of the promise and limits of AI systems for online extreme speech moderation
Ethnographic approaches to AI assisted efforts against hate and disinformation
Please send your abstracts (300 words) to ai4dignity@ethnologie.lmu.de before 20 May 2021. Selected participants will be notified by 25 May 2021. Abstracts should contain a clear outline of the argument, theoretical framework, methodology, and a brief note on how your research links to the overall theme of the workshop. Please also include 3-5 keywords that describe your work, and a short bio (max 100 words, stating affiliation).
The workshop is planned as a hybrid event but will go fully online based on the pandemic situation. Travel and accommodation costs will be covered for the physical event.
Selected presentations will be invited to contribute to an edited collection.
For more information, contact ai4dignity@ethnologie.lmu.de